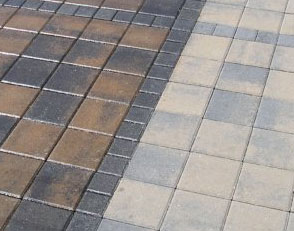 Paver Cleaning and Sealing Company – Pavers are an excellent way to add elegance to any home. With intricate designs and a wide variety of colors, it's easy to see why they are a popular choice for Florida homes. Unfortunately, as tough as these blocks seem they are also are subjected to harsh UV rays along with grease, oil, rust, algae and mold. All of these factors contribute to the fading and disintegration of brick pavers. Aged, dirty and faded walkways, decks, patios and driveways detract from the value of your home and are an unsightly accessory to any landscaping. Restore the appearance of your Clearwater, Seminole, Largo, Palm Harbor, or St Petersburg home by having West Shore Painters clean and seal your pavers. Perhaps you are asking what the best paver sealing company in town can do.
Restore the appearance with a natural, wet or shine seal
Stabilize the jointing sand to maintain structural integrity
Protect against UV damage and fading
Prevent the growth of weeds, algae and mold
The Best Paver Cleaning Company
Most pavers are made solely out of concrete which makes them porous, meaning that they easily absorb water, grease, oil and rust which makes them magnets for stains, mold and mildew. Not only are these things unsightly, but they can also turn a normal walkway into a dangerous situation. Bricks with mold, mildew, and algae growth can become slippery when wet, causing unsuspecting walkers to slip and fall. Protect against stains and injuries by cleaning and sealing your pavers today!
Our service areas include:
Clearwater
St Petersburg
Palm Harbor
Seminole
Largo
Cleaning and sealing your pavers our company not only protects the bricks from unwanted seepage, but also helps preserve the structural integrity of the bricks. The solution binds the jointing sand together which prevents against loose bricks and cracks. By binding everything together, this eliminates the possibility of weeds growing through the bricks. Any homeowner with pavers knows the frustration of seeing hideous weeds peeking out through the bricks, ruining the look of the patio or driveway. This is why you need the best paver sealing company: West Shore Painters.
What can be sealed?
Brick
Pool Decks
Driveways
Decorative Concrete
Patios
Walkways
Garden Paths
Paver Sealing Company in Tampa
There are a variety of paver sealers our company can be use to create different looks for your bricks. Whether you prefer a natural look or a wet shine, a seal is a great way to enhance and restore the colors of the bricks. Sealing your Clearwater, Largo, St Petersburg, Palm Harbor and Seminole pavers can prevent fading and stains for years. The end result is a dramatic transformation from lackluster bricks to brilliant pattern of vibrant colors.
Here at our paver sealing company West Shore Painters, we care about our impact on the environment. That's why we only use environmentally friendly sealers to ensure the safety and comfort for your family, pets, and the surrounding environment. Unlike our competitors, we only used water based sealing products with low to no VOC's. Other solvents are can cause damage to the surrounding environment. Sealing also eliminates the need for the use harsh chemicals in weed killers. The benefits to having your pavers cleaned and sealed are plentiful.
If you are interested in working with the best paver sealing and cleaning company call Brennan Nelms 727-488-8058