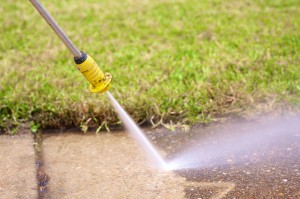 Pressure Washing
homes in St Pete and Clearwater FL – Many times, people only associate power washing with something you do right before your home is repainted. While this is true, it also used simply to clean stucco, dirty siding, decks, driveways, patios and more. The spray is able to clean away years of dirt, grime, pollen and mold making your home or office look new between paint jobs. This not only cleans the affected area, but also removes unwanted allergens from the surface. Pressure washing can restore a surface back to its original looking condition.
What does our pressure washing company remove? 
Mold
Mildew
Dust
Dirt
Pollen
Algae
Mold, mildew, dust and pollen can cause severe health problems, especially for people with allergies. Generally, people only worry about these things inside their home; but what about the outside of your home? Living in a humid climate, Floridians battle with these  irritants every year. The Clearwater, Seminole, Largo, Palm Harbor, and St. Petersburg FL areas are especially affected by this problem due to the west coast's high humidity and rainy seasonal weather.
Why is it important?
Improves the appearance
Removes unwanted pollutants
Evens out stained rough surfaces
Prevents further damage
Prepares the surface to be worked on
Pressure Washing Company in Clearwater
Every year the Clearwater, Seminole, Largo, Palm Harbor, and St. Petersburg areas are hit with a rainy season. This weather creates an ideal environment for algae, dirt and mold to grow. A cleaning once or twice a year can prevent buildup of hazardous grime that can harm you and the surface of your home. It is normal for mold and mildew to develop over time due to weather and environmental conditions, especially in Florida's humid climate. But if it's not cleaned on a regular basis it will damage your home and even become a health hazard making you and your loved ones sick.
West Shore Painters takes the unpleasant pressure out of pressure washing!
While pressure washing may seem like an easy task, it can quickly turn into a dangerous situation and should be left only to the professionals. Without the proper training and experience, you can injure yourself, others and damage property and plants around your home. While it may look like an ordinary hose, a pressure washer shoots water out of the hose at thousands of pounds per square inch. This tool is excellent in blasting away unwanted dirt and grime, but can also case deep gashes and rip off siding. The saying, "with great power comes great responsibility," should come to mind when you are thinking about using this machine. As the areas best pressure washing company we know how to vary the power use to accomplish the job using the safest levels for your property.
Our Service Areas:
Clearwater
Seminole
Palm Harbor
Largo
St. Petersburg
Pinellas County
Tampa
As a family owned and operated pressure washing company, we pride ourselves on providing the best customer care in Pinellas County and Hillsborough Florida. Since 1985 we've served the residents of this area with exceptional and affordable service.  In our quest to be the best pressure washing company and painters in Tampa Bay we take our time to do the job right the first time. From interior and exterior painting to driveway cleaning, deck refinishing, and paver sealing, West Shore Painters has you covered for all of your painting and sealing needs.
Anyone who has seen one of these machines in action knows that the difference between before and after a wash is astonishing. This easy and affordable option can help bring a fresh new look to your home while preventing future damage. Increase the value of your home with this simple and inexpensive treatment. If you, or someone you know, are in need of the best pressure washing company in Clearwater, Seminole, Palm Harbor, Largo, Tampa or St. Petersburg FL, give West Shore Painters a call today! 727-488-8058.