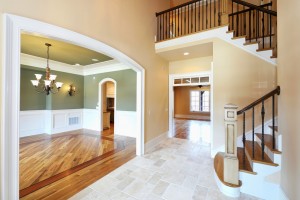 Painters can completely change the atmosphere of a room in St. Petersburg with a fresh coat of color. There are many reasons you may be seeking painting services for your home or office, and hiring a professional is the best way to get it done efficiently and effectively. Sit back and relax or keep up your daily schedule with minimal interruption with a service that transforms your space for you. For residential or commercial spaces, indoors or out, West Shore Construction's painting crew can handle your needs.
Residential
A professional service is the best option when it comes to large-scale projects at home in St. Petersburg. Whether you want to increase your home value, are looking to sell, or just need a change, painters can swiftly and professionally touch up your house so that it looks neat, clean, and crisp. We treat your belongings with caution and make sure to cover and tape all of your property so it is not affected by the paint. We also make sure to clean up after every job, so it looks like we were never there— except for the beautiful walls!
From interior walls to popcorn ceiling removal, our indoor residential painting services can refresh the whole house. You can easily amp up curb appeal with a clean coat of color on the outside of your home too. We also offer driveway sealing and waterproofing for your house to protect it from the elements. We make sure to use high-quality paint that stands up to powerful rays of sunlight, hurricane-force winds, and torrential rain that are all common to the area. Your home is valuable, inside and out, and West Shore can help protect it with our crack repair, sealing, and painting services.
Commercial
Liven up your workspace with a custom mural or pop of color! Our professional painters can turn your office into a work of art. Add greenery to the walls of your landscape company's headquarters, or bright, cheerful images to the walls of a hospital. We can paint commercial buildings such as:
Apartments
Retail stores
Businesses
Warehouses
You can add some life to your office with the help of professional painters. We'll pressure wash your St. Petersburg commercial building, and offer crack repair, waterproofing, and more. Impress potential clients and recurring customers by sprucing up the outer appearance of your commercial space with a little help from West Shore.
Materials
Even with expert techniques and years of experience, professional painters can't do a high-quality job without the proper materials. At West Shore, we use high-quality brands that lead the industry in reduced peeling and chipping. We've perfected our techniques over the years and are experts in color mixing, matching, and application.
We strive to be an environmentally-friendly company, so we always promote the use of VOC-free paints. VOCs (volatile organic compounds) are given off by certain paints as they dry and cause headaches, dizziness, and they are also suspected carcinogens according to the United States Environmental Protection Agency. Protect the health of you, your family, and your employees by using low or no-VOC paint in your St. Petersburg home.
Professionals vs. DIY
DIY can be very tempting, especially when it comes to painting, but hiring professional painters is an excellent idea for many reasons. Most often, DIY paint jobs end up streaky, off-color, splotchy, or patchy. While these attempts are earnest and well-intended, you can save your time and money by going to a professional in St. Petersburg first. We'll leave your walls looking smooth and well-covered, matched to the exact color you want.
Call West Shore Painters Today!
West Shore's painters are Florida State certified and licensed and have been working in the St. Petersburg area for over 27 years. Every one of our projects includes a free estimate, taping or covering of areas not being painted, high-quality paint application, and clean-up. We are fully insured and have been nationally recognized by the Construction Industry Consumer Choice Awards for our high-quality work and superior service. We want to help you make your home or office beautiful in an efficient, cost-effective way. For your free on-site estimate, call (727) 488-8058 today!