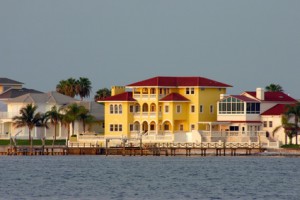 If you're looking for a St Petersburg painting company that is not only affordable, but reliable, look no further than West Shore Painters. In business since 1985, West Shore has been serving the local community for all construction needs. We are deeply invested in the community and do whatever it takes to make sure every client is left feeling happy and satisfied with our services.
When shopping for the right house painter near Madeira Beach or maybe in Downtown St. Pete, it is important you make sure they meet a number of credentials. First and foremost, they should be certified and Florida State licensed. You don't want to be held liable if anything happens on your property during their work hours. Also, you want to make sure they are skilled and experienced in other construction services, as you will probably realize more work needs to be done once the job begins. For example, soffit and fascia repair, stucco work, popcorn ceiling removal, waterproofing and sealing.
Many people have a negative connotation of working with contractors and painters. After you hire West Shore as your St Petersburg painting company your opinion is guaranteed to change. When it comes to painting, remodeling and construction there is no one in the Tampa Bay area more dedicated to exceeding our customers' expectations.
What makes West Shore the best St Petersburg painting company?
Exceptional Customer Service.

We know having your home's paint job done correctly is important—so we deliver accordingly. The VP of Operations, Brennan Nelms, makes it a point to handle each and every customer with adamant attention and care. You will be treated with the utmost respect during each stage of the process—from getting your initial on-site estimate to the follow-up to make sure you are satisfied with your finished project.

Award Winning St Petersburg Painting Company.

Every year (for the past four years) we have won the Best House Painting Company from the Construction Industries Consumer Choice Awards. We know the exceptional craftsmanship and customer service we provide is unparalleled, and we hold ourselves to the highest standard possible.

FREE Onsite Estimate on All Projects.

Not only can our St Petersburg painting company guarantee an estimate within the week, but we will come out to your property and give you an on-site evaluation completely free of charge.

Work 100% Around Your Schedule.

We work every day of the week. We know you are busy, and it can be a nuisance to have workers at your home or office while you are trying to get things done. That is why we let you make the schedule of when you want us there. You won't have to worry about having your life disrupted just because you want some work done on your house.

Full Construction Services.

We don't just offer interior and exterior painting for residential and commercial properties. We are also a full service construction company. We also offer services for: popcorn ceiling removal, sealing, waterproofing, crack repair, pressure washing, and much more.

We Service All Areas

in Hillsborough, Pinellas and Pasco County.
At West Shore we are a St Petersburg painting company that does it all. Whatever problems you run into with your home—interior or exterior—we will be there to repair. Click below for a free quote, or to learn more about our services and how we can help improve your St. Petersburg home, give Brennan Nelms a call today at 727-488-8058.
Request Free Quote